Once you have a basic top pattern that you like, your options for varying it are almost infinite. The first post in this group included notes on how to change a top into a dress. It's possible to make even more radical changes to the garment type, by opening up the front of a pullover top to make a shirt, jacket or vest 😀
(If you want to do the opposite – change a pattern with a front opening into a pullover top – here's a post.)
The first post in this group on varying pullover tops was about making simple changes to style elements.
This post expands on that idea by showing how to convert a pullover top pattern into a simple casual jacket or shirt.
The final post in this group is about changing the look of your garment by using fibre-arts skills.
The sections of this specific post are on :
– converting your pullover top pattern into a casual jacket or shirt, which includes :
– – adding ease so the jacket can be worn as a layer.
– – adding a front opening.
– a source which shows you how to make simple changes to the style elements of a given jacket pattern.
– – –
A pattern for jackets
Jackets need two changes to a pullover-starting-point-top pattern : adding ease and adding a front opening.
Enlarge your top pattern into a jacket
Add more ease in body and sleeve, so the jacket is comfortable over other layers.
1.1. add more ease to body :
This size increase just needs adding strips to the pattern, to increase the width of the body.

Stocking pattern from Craftsy
Not a jacket, but this image shows the simple enlargement process, which can be used on patterns for nearly anything 😀
Do this to change your top pattern to a casual jacket with more dropped shoulders, by adding a strip down from the shoulder seam area. A 1″ wide strip added to both front and back is plenty, as that increases the size of the jacket by 4″.
1.2. adding more ease to the sleeve may not be so easy, because any change to the sleeve cap needs a matching change to the armhole.
1.2.1. cut-on sleeve : Add in a strip down the sleeve and across the top of the body, in a similar way to adding width to the body. The above image shows enlarging a pattern in both dimensions.
1.2.2. separate sleeve : If you add a strip down the length of a sleeve, this also changes what the armhole needs to be to match. That is why the instructions for enlarging a sleeve to fit a bigger bicep are complex – it needs to be done without altering the length of the sleeve cap, so that can still fit the original armhole.
Instead of trying to devise another armhole to match a changed sleeve, it's easier to learn some franken-patterning (combining sections from different pattern sources). Combine your jacket body with the sleeve pattern and armhole from another pattern that you know works well.
To add an armhole usually just involves :
– lay a tracing of your front or back body pattern over the pattern which has the armhole shape you want to use, matching up the shoulder and side seams,
– trace the new armhole shape onto your body pattern.
Add a front opening
To change your pullover pattern to a front opening finished with a neckband, on the front pattern draw a line down from neck end of shoulder seam to hem.
Use a rectangle-shaped piece for the neckband. Assess how wide you want the band, and make the width of the rectangle twice this, with length the length of the back and front neckline edges. Add seam allowances. Essential to make a 'muslin' to check everything matches up properly, and the neckband is comfortable around the neck in wear.
If you don't want a neckband, there are many other front-opening options in a series of posts starting here.
That first post includes a front opening with exposed zip, or a button band.
The third post of that group is about making facing patterns.
While here's a post on sewing facings.
(The second and fourth posts of the front openings group are about adding other style elements.)
You could also finish the edges with bias binding, bias facing, or fold-over-elastic.
Convert to a vest : leave the sleeves off, and use your favourite edge finish on the armholes. If this pattern had a tighter fit you might want to raise or lower the bottom of the armholes, but on a loose fitting pattern for layering this probably is not necessary.
–
Judy Kessinger of Fit Nice System has detailed instructions for not only enlarging and opening your pullover top pattern but also adding facings and collar for a less casual more classic basic jacket. You can start from your own top pattern to make this version too ! Simple options : make without a notch, i.e. collar full length of neckline, use rectangle shaped piece for collar.
Judy also has many other jackets and coats you can make starting from a pullover top pattern.
– – –
Shirt or blouse
No need to enlarge your pullover top pattern when making a blouse/ shirt, but perhaps the front opening and collar need to be more complex.
There are many options for a front opening finish : see the series of posts just mentioned, the first includes button bands.
Add a collar. Perhaps a convertible collar is the easiest as it can just be a rectangle.
You might copy a banded collar from another pattern (perhaps adapted to your neckline shape).
Or momosAtelier has a group of 'collars only' patterns.
The collars from her 'dickie' patterns could be added to complete garment patterns. To do this 'franken-patterning' – lay a tracing of your pattern over the dickie front or back pattern, matching the shoulders and centre front, and trace the neckline.
Sleeve cuffs ? again most cuff patterns are just a rectangle. It's the opening above the cuff that is more complex. Some of the options are in this post about plackets.
– – –
Ideas for jacket variations
If you don't want to start by making all the decisions involved in changing your pullover top pattern into a jacket, you might like to start from a simple jacket with cut-on sleeves. The All Well Workshop cardigan coat pattern comes with a very extensive 'hacking guide' for making multiple alternatives, including lined. The quilted versions in the photos are made from pre-quilted fabric, but you could make your own quilted fabric pieces 😀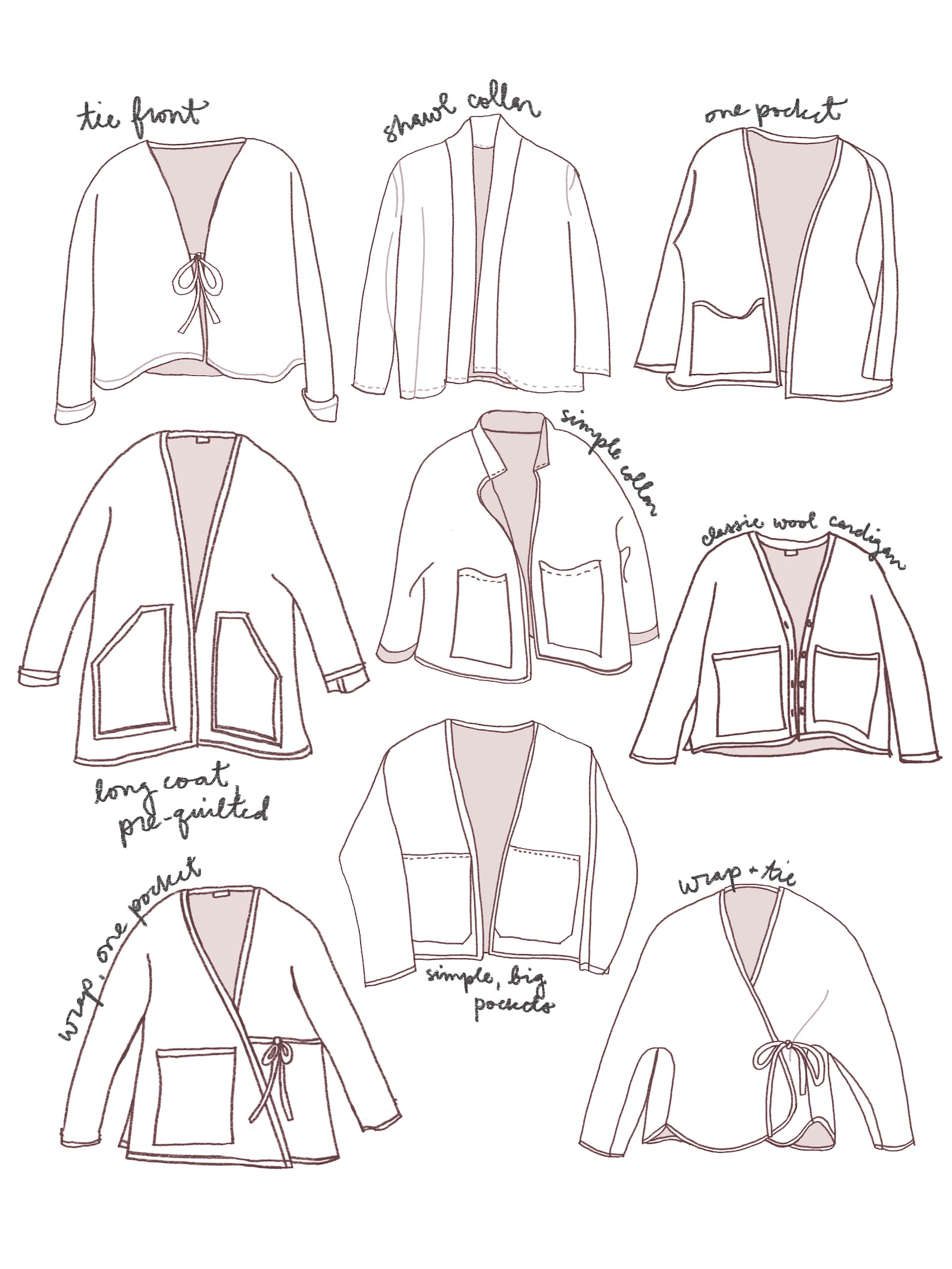 These variations can also be applied to a simple jacket with separate sleeves, see the robe-style post for some starting point suggestions.
There are more ideas for simple jacket designs on this pinterest board.
– – –
Good Luck, have fun and en-joy exploring the possibilities for making everything about your me-made clothes. You can do not just the assembly sewing but also make the pattern !
Which are your favourite style choices 😀
– – –
Here are the sections in this group of posts on learning to sew :
1. Start on the path to learning to sew :
1A. Pattern lines which teach.
1B. Some big 'learn to sew' courses.
3. Make making easier – levels of difficulty, suggestions for practising.
4.Variations :
Variations A : change style elements.
Variations B : from pullover to open front.
Variations C : using your fibre-arts skills
5. Become aware of your many styles.
6a. Beginner wardrobe A : add skills as you make clothes.
6b. Beginner wardrobe B : some possible outfits/ capsules from specific pattern lines.
–
These are posts on specific easy-make garment styles :
Cut-on sleeve tops – group of three posts :
. . . patterns,
. . . fit, and style preferences,
. . . sewing.
Peasant-style tops.
More easy tops
Elastic-waist skirts.
Elastic-waist pants.
Leggings.
= = = = =